The #1 Most Overlooked Decor Detail...
The linens.... We get it. Most venues come with free tablecloths and free is a good thing, right? While we can't argue that free is, well, free, we can tell you that investing in quality linens is one of the easiest ways to elevate your design.
Sourcing decor for your event can be intimidating. Most of these companies require a wholesale account and will only sell to wedding industry vendors, so we recommend sharing this guide with your florist, wedding planner, and/or stylist. Below are our list of linen favorites.
The Tuscany collection from LaTavola Linens
Details: A textured raw linen sets the table for the natural, understated Tuscany Collection. This collection exudes effortless culture and timeless style. You just can't beat a raw linen texture.
Favorite Colors: Wedgwood, Silver, Natural, Plum, White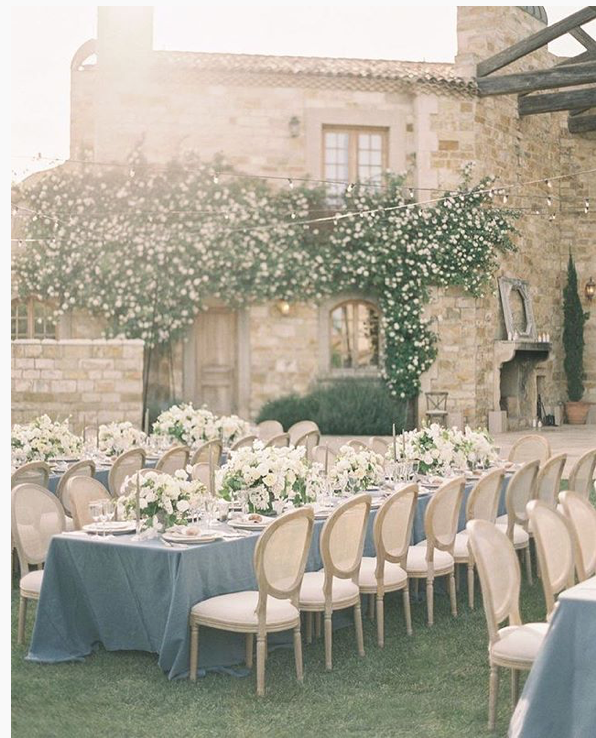 The Velvet collection from BBJ Linen
Details: Adding velvet creates that ethereal, fine art look that brides have been drooling over this year. We use it often on the grooms cake table, as well as the guest tables.
Favorite Colors: Bone, Rose Quartz, Gold
The Ivory linen from LaTavola Linens' Nuovo Collection
Details: Ivory is a tough color. It's either too yellow or too khaki. This is the truest Ivory we've found on the market.
Handloom Weave Table Runner by Silk and Willow
Details: Their Table Linens are hand loomed and naturally dyed with sustainably gathered plant materials. You can't go wrong with any of their colors. We use their Antique White for ceiling drapes, table runners, and cake tables.
The Beatrice Linen from LaTavola Linens
Details: The detail work in this linen in stunning. If your budget allows, we recommend using it on all of the guest tables, but if you had to choose just one table, we recommend placing on the cake table.
Rosewood Cora by BBJ Linen
Rosewood Cora is a distinctive blend of old fashioned elegance and modern appeal. We usually alternate this linen with BBJ's Cameo or White linen. It's also perfect for catering and cake tables.